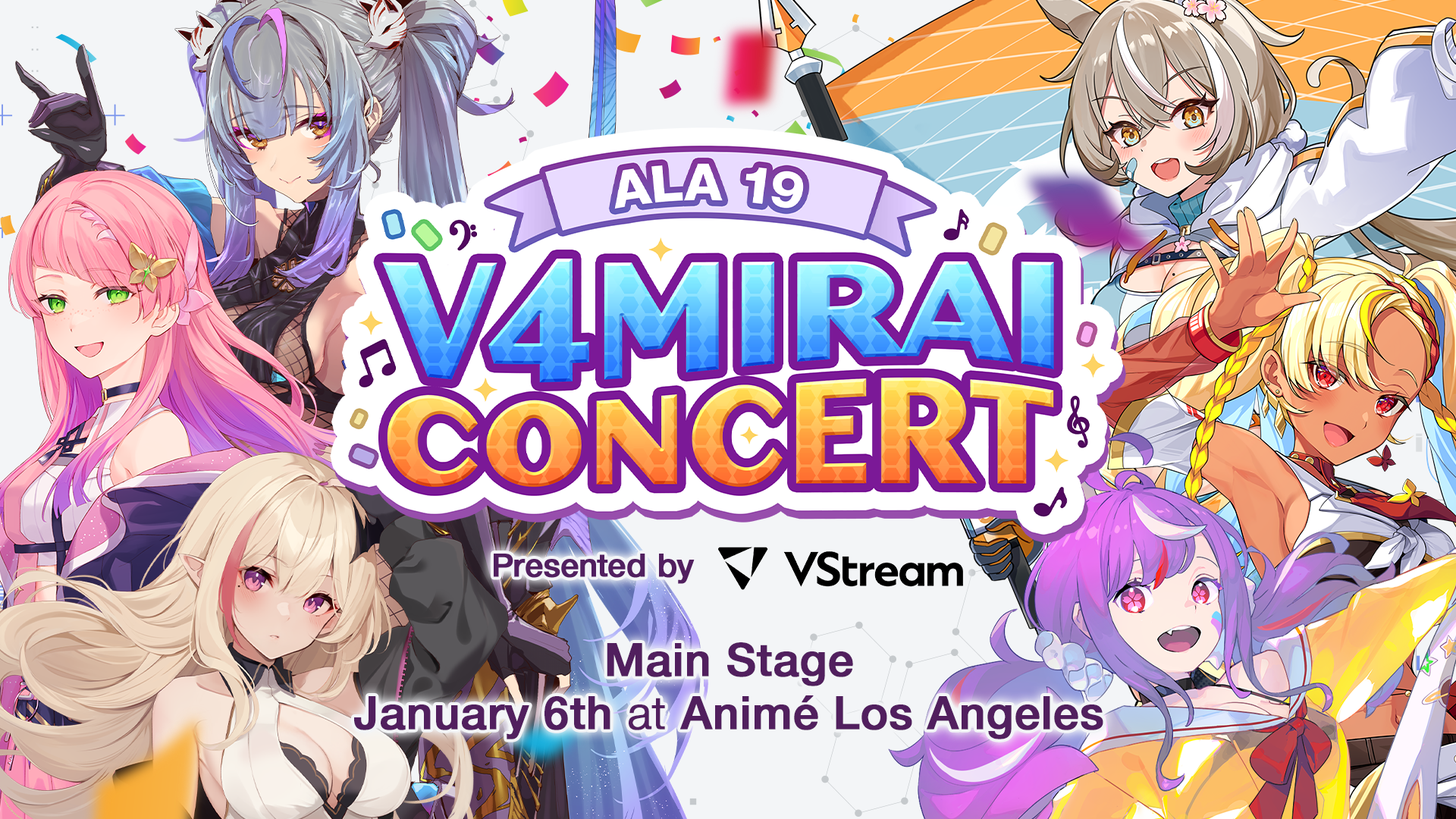 V4Mirai Steps Offline At Anime Los Angeles 2024 Debut Concert
All six members of V4Mirai are headed to Anime Los Angeles 2024 on January 6th!
If you thought V4Mirai would stop simply by launching their second generation Petalight, know we're not content to sit back. As part of our grand mission to "make our own Mirai," we're coming to ALA 2024 for a mindmelting concert event presented by VStream! Colorful originals and beloved covers side by side, not mention trio performances as voted for by the V4Mirai community! This marks our first ever live concert so we ask hardcore fans and convention goers to join on our girls as they make V4Mirai history!

Date: January 6th
Place: Anime Los Angeles, Long Beach Convention Center California
Find more information & register for Anime Los Angeles 2024 here!

As V4Mirai's first generation, Abi Kadabura and Serina Maiko carved a path forward for our project with the strength of their talents alone! Magician in training Abi Kadabura utilizes the highest levels of comedic wizardry to usher waves of hee & haws from the audience. Serina Maiko, princess of a now-lost kingdom, puts the grooviest of vibes into her singing & her world class dance moves. More recently, V4Mirai's second generation tripled the size of our roster. Sleepyhead otaku vampire Kou Mariya rose after 1000 years of sleep to bring you to tears with her voice. Artist extraordinaire & delightfully out-there personality Mono Monet paints her audience into a world of her own with every stream. Yae Yugiri seeks to bring back ninja arts to the masses with her bilingual & voice acting mastery. As for Biscotti (a horse), she's something else all together, putting 100 horsepower into everything she does!

All six of our active roster will be featured at ALA concert and hope to meet as many people as they can! A big thanks again to VStream for presenting this history making event that promises to be a lovely evening whether you're already a VTuber fanatic or are new to the world of their virtual charms.