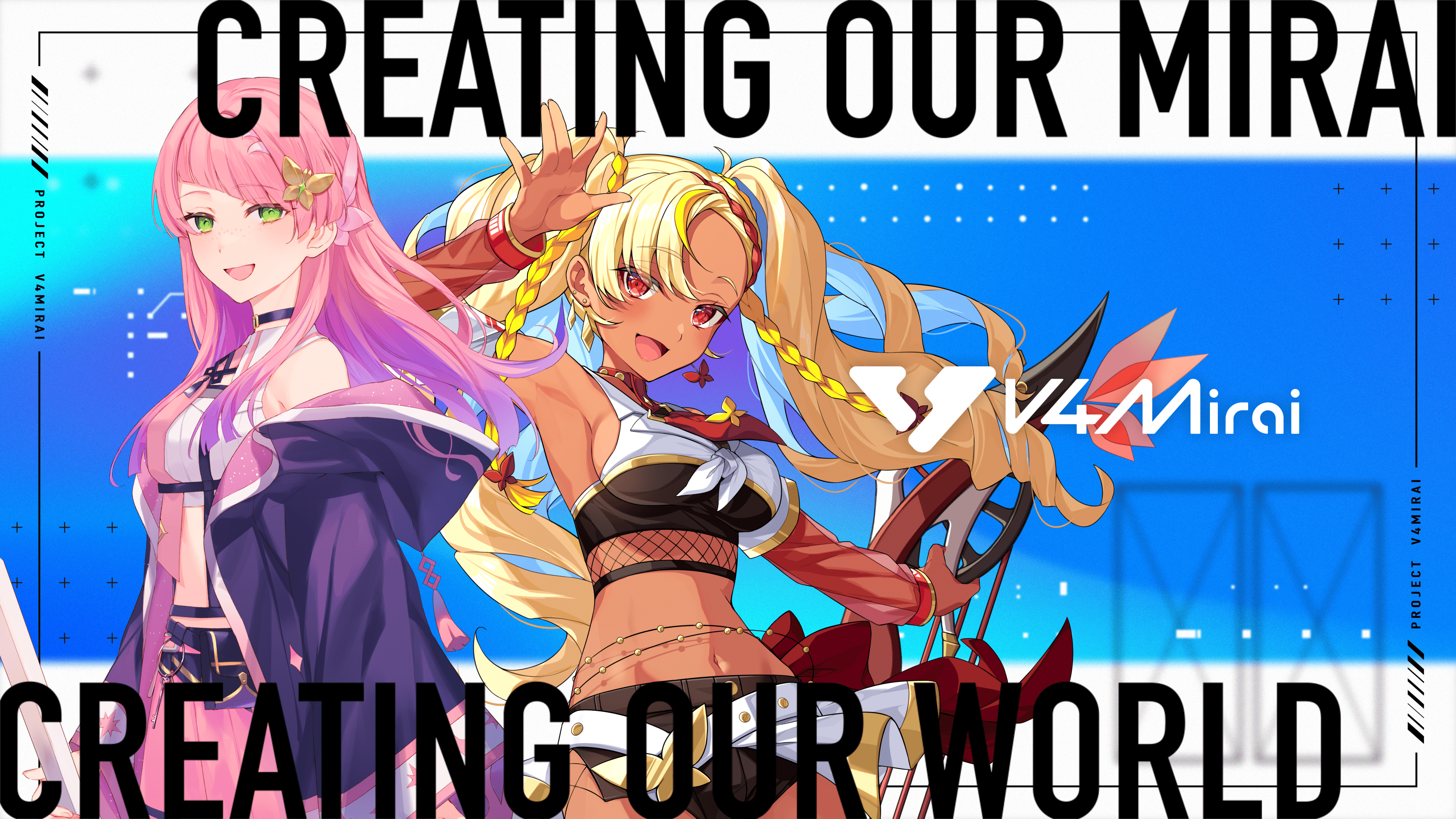 V4Mirai Descends To Elevate International VTubing To New Places
~Brave group, Known Worldwide For Their Vspo! and RIOT MUSIC VTuber Groups Among Other Efforts, Does Things its Own Way For Its First English-Based Outfit~
Announcement:
Tokyo, Japan June 2, 2023 – Brave group, the Tokyo-based VTubing production supergroup that operate the 6 million follower-esports centric VTubers Vspo!, the Virtual Music Agency RIOT MUSIC enjoyed around the world, and Virtual idol masterclass performers Palette Project, among others, are thrilled to announce the debut of V4Mirai; Brave group's first English language based VTubing group who, in debut members Serina Maiko and Abi Kadabura, promise a different virtual experience from what's out there.
Additional Details
V4Mirai first generation formally debuts on Saturday, June 10th 9PM EST / 6PM PST, though future-fans may find previews scattered around our channels if they look. Come meet Princess-Songstress Serina Maiko and Magician-Comedian Abi Kadabura who, from the outset, with their unique voices will prove to audiences their vision for entertainment, community, and international culture are the real deal, and at the same time all their own. Of course, expect future members to join the mission down the road.
The V4Mirai project itself was conceived internationally from the get go, with production- team members both in Japan and the United States and specifically international members on both sides of the pacific. This ensures the highest standard of artistic quality expected from Japanese VTuber production while the forward-thinking, outside-the-box sensibility that's come to dominate the English-speaking VTuber world is not only maintained, but taken to new futuristic levels.
"MIRAI" means "Future" in Japanese and V4Mirai is set to build the future of international VTubing for years to come.
Why Brave group, and Why Now?
Brave group and its subsidiaries possess years of experience in the VTuber industry, with some members of their Virtual eSports Production Vspo! gaining as big a following as any of Japan's biggest virtual personalities and their Virtual Music Agency RIOT MUSIC's listener-base now being over 50% outside Japan, the years have gone on, Brave group has started to make true of what they've promised from the start; Doing what they do on a global scale. Working
With an international team based on both sides of the pacific, V4Mirai is a new frontier for the company, but with that comes a renewed energy to blaze trials and connect with fans all across the globe. While the VTuber market isn't by any means small, all parties involved are confident V4Mirai represents the start of the future for the industry!
A Brief introduction To Serina Maiko
Princess Serina Maiko comes to us from a distant kingdom, one she ultimately chose to leave behind in pursuit of her truest loves; Dance and Singing. A wonderfully pleasant and  down-to-earth personality whose lush voice lulls the listener to their own happy Kingdom. Whether they're talking up their favorite anime, K-Pop groups, or skincare routines, or serenading a full royal court, she's always a treat for the ears; Truly a soul made for the stage, not someone meant to be dwelling in a castle.
Twitter: https://twitter.com/SerinaMaiko

Serina Maiko Debut Stream:
Debut Time: June 10 9:00 PM  EST / 6:00 PM PST
A Brief introduction To Abi Kadabura
Trainee Magician Abi Kadabura may have a long way to go before mastering those ancient mystic scrolls, but give her 10 seconds and anyone will keel over in a fit of laughter. While she hails from some techno-magic future, Abi's comedic stylings are presently world class, taking as much influence from honed performance art and tight stand-up comedy as the cacophony of  frantic Gen Z internet humor. Let her cast you a spell and tell a joke while she's at it.
Twitter: https://twitter.com/AbiKadabura
Abi Kadabura Debut Stream:
Debut Time: June 10 10:00 PM  EST / 7:00 PM PST
V4Mirai's Commitment To its Talent & its Fans
Fans aren't happy when their favorite VTubers aren't happy, and VTubers aren't happy if the teams and agencies they work with aren't cooperative and fair to them. The V4Mirai team will do everything in its power to help their current and future performers reach their dreams, and have their visions as artists and how they want to perform realized.
V4Mirai abides by continually listening to their VTubers wants and needs and doing what's needed to make sure everyone's happy. That way both the V4Mirai  VTubers themselves and the V4Mirai production team can focus on giving fans that much needed boost of positivity and support when they need it, and to simply entertain them when they're bored.
Official V4Mirai Sites, Channels, & Merch
All found at the links below, keeping up with V4Mirai's official website and channels is the best way to find out all the happenings of this fledgling international VTubing trope as they grow into world class sensations! in the V4Mirai shop you'll be able to support your favorite V4Mirai members with a variety of lovingly crafted merchandise, least of all the V4Mirai Voice Experience Collections that offer the listeners some one on one time with their newest favorite VTubers.  The V4Mirai online shop is set to open soon.
Check back often because so much V4Mirai is just beyond the horizon!
Official Website: https://v4mirai.com/
Official Twitter:  https://twitter.com/V4Mirai
Official YouTube Channel: https://www.youtube.com/@V4Mirai